iCopy-X
Device Background
The ICopy-X is a powerful portable RFID cloning device, built on top of a Proxmark 3 RDV 4.01 It is an entirely stand-alone device with integrated screen and buttons - unlocking the power of a Proxmark but without the need for an external computer.
It supports the full range of standard high-frequency (13.56MHz) and low-frequency (125KHz) cards supported by the Proxmark 3, and also several other previously impossible tag types.
There are three types of iCopy-X.
iCopy-X: Basic
iCopy-XR: Intermediate
iCopy-XS: Advanced / Complete
The iCopy-XS is the "unlocked" or "complete" device. It has no restrictions - so can copy all tag types, and is compatible with the iCLASS SE/SEOS Decoder accessory. The "Basic" and "Intermediate" models do not support accessories, and are restricted in the types of badges that they can copy.
Power users can connected the iCopy-X to a computer and use the standard Proxmark console to perform advanced operations.
The iCopy-X builts on proven technology to provide an easy-to-use RFID tool built for security researchers, lock professionals, hobbyists and LEA.
Portable: Pocket-sized, rechargable - no external computers required.
Powerful: Built on an upgraded Proxmark 3 RDV4.01
Intuiative: Easily controlled with full-colour screen and navigation buttons
Expandable: Supports official modules / accessories, including the iCLASS SE/SEOS Decoders
Power Users Supported: Power-users can directly access the Proxmark device via the Proxmark CLI tool
Supported Badges
High Frequency:
MIFARE
MIFARE 1K / 4K (4 & 7 byte UIDs)
MIFARE Ultralight
MIFARE Ultralight C
MIFARE Ultralight EV1
NTAG
ISO14443B
ICLASS Legacy
ICLASS Elite
ICLASS SE (with the iCS Decoder Tool)
ICLASS SEOS (with the iCS Decoder Tool)
ISO 15693
iCODE SLI (Partial)
iCODE SLIX (Partial)
Low Frequency
EM4XX
T5577
HID Prox
Indala
AWOD
ioProx
Viking
FDX-B
KERI
VISA2000
HITAG
Motorola
Paradox
Presco
GProx
Securakey
PAC
Stanley
NexWatch
and many more
Device Functionality
Auto Clone
Scan (Basic Info)
Read (LF + HF)
Sniff (MIFARE keys)
Emulation (LF + HF)

Expert / Proxmark Mode

Import / Export Keys
Import / Export Dumps
Device Characteristics
Screen: 1.3 Inch 240x240 RGB LCD
Tactile Controls: Arrow Keys, Select Buttons
RFID System: Customised Proxmark 3
Connectivity: USB-C
Dimensions: 120 x 55 x 24mm
Weight: 113g
Technical Specifications
CPU Cortex-A7 @ 600MHz
Storage 256MB Ram, 16GB User Storage
Battery: 2000mAh Li-ion battery
Interface Screen + Arrow Keys, Select Buttons
Image Gallery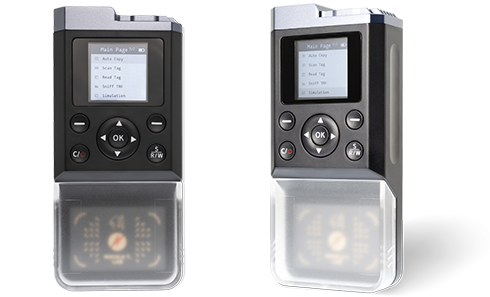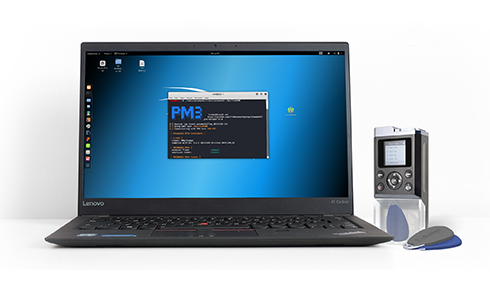 iCopy-X Presentation Video
Buy an iCopy-X
The iCopy-X is current hardware and available for purchase. Please click here for official distributors.