Proxmark 3 RDV 2
Important The Proxmark 3 RDV 2 is an obselete device, and the information provided below is for reference only. It has been superceded by the Proxmark 3 RDV 4 and the Proxmark EVO.
Device Background
Designed and manufactured by Elechouse, the Proxmark 3 RDV 2, or "Revision Two" was the first major evolution in the Proxmark framework for many years.
All major hardware components, including the microcontroller, FPGA and flash memory were revised and updated.
However, the most significant changes were in the antenna design and implementation. The bulky, awkward and untuned antennas of the Proxmark 3 were replaced with compact, pre-tuned HF and LF antennas, using the standard SMA interface instead of the USB-Hirose cables previously used.
The Proxmark 3 RDV 2 was the first all-in-one design, with its stacked PCB design providing a case and attach points for the antennas, finally enabling the device to be used in environments where more discretion was required.
The Proxmark 3 RDV 2 was quickly adopted as the "industry standard" device. Its popularity resulted in grey-market / counterfeit versions of the device surfacing on AliExpress / TaoBao. These devices had known issues with their antenna performance and suffered from failing relays.
Technical Specifications
CPU AT91SAM7S512
Storage 512Kb SPI flash
Interface 4x mode LEDs, 1x button.
Battery External battery connector
Antennas

LF Pretuned, Removable
HF Pretuned, Removable
Image Gallery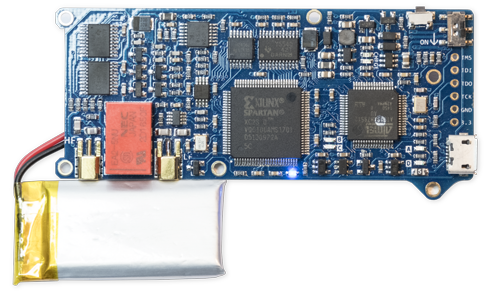 Buy a Proxmark 3 RDV 2
The Proxmark 3 RDV 2 is obselete hardware. It has been replaced by the Proxmark 3 EVO and Proxmark 3 RDV 4. Please click here for official distributors.